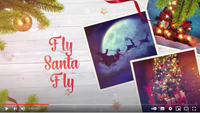 Thanks once again for an amazing response for "Fly Santa Fly" :) 
Another Christmas season and so many people have told me how much they love this song. 
I think it is because we all remember being a kid at Christmas time.
Speaking of kids, they do love my video, I have to admit, I love it too lol.  See you all next year!